How to overcome stress and thrive in your role as a family caregiver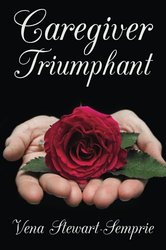 Vena Stewart-Semprie came from humble beginnings in the Caribbean and attended Henley`s School of Stenography in Port of Spain, Trinidad & Tobago. Her skill set in Pitman Shorthand and Typing prepared and enabled her to fi nd employment with local Government Ministries and the private sector in the field of administration. Immigrating to Toronto, Canada in 1967 opened up a whole new world of continuous learning.
She worked in educational institutions, such as the University of Toronto School of Social Work, Seneca College and the Municipality of Toronto where she retired from Toronto Police Service in 2003. Throughout her career in Canada she was engaged in raising a family of 4 children and caring for her husband, who was a Detective with Toronto Police Service.
In 1992 her husband was diagnosed with multiple sclerosis and her responsibility of care multiplied. Her practical experience in navigating through her family's challenges, her passion for writing and the opportunity to share her story with the world inspired her to write 'Caregiver Triumphant'.
Published:
June 17, 2016
Genres:
Reviews:
Amelia Thompson - Nurse

wrote:
I found this book to be very helpful because the author understands the issues and hardships from personal experience. The practical advice is helpful and the spiritual material is uplifting. This book is a valuable asset for caregivers.
Calvin Clarke

wrote:
This easy read book on "Caregivers and Caregiving" addresses the 5 W's: Who, What, Why Where and When. The book is well written, carries a wakeup call to those who care for their loved ones without concern of the eff ect such a process would have on them. This book outlines first hand experiences into the steps required to ensure the care given in both directions is consistent and carefully administered with the love and understanding of both the giver and receiver. This read is not restricted to current caregivers, but also those who are receiving or in the process of looking into Caregiving. A MUST READ.
Larry E. Quicksall, LCSW; Former Hospice Social Worker, Author of "We Need to Talk: A practical guide for those facing terminal illness."

wrote:
If you are or a family member is in the role of a caregiver, I cannot encourage you enough to read 'Caregiver Triumphant' by Josephine Stewart-Semprie. As one who has worked in the hospice and home health fields for many years, I found Josephine's words compassionate and inspiring as she shares her own personal experiences as a longterm caregiver and wisdom she has gleaned from caregivers and professionals alike. 'Caregiver Triumphant' makes a great gift for family members that need encouragement and direction as they face this very important time and responsibility in their lives.